Australian Dentists - Total Area Dominance™ (TAD)
Created by Dentists for Dentists™
Total Area Dominance™ was born when an experienced, innovative dentist told us what he ideally wanted from his Internet Marketing - he said…
"I want to DOMINATE my area with lots of websites getting enquiries for every dental service"
What is Total Area Dominance...TAD?
Have you ever been fishing? - You will catch a lot more fish with a fleet of boats each with 50 lines in the water - with specific bait for each species - than with one boat and line hoping for the best.
That's what TAD is – a huge network of dental sites exclusive to you! – typically up to a dozen - each with over 50 interconnected dental services all capturing enquiries / traffic from your Area delivering the Lion's share of Dental Enquiries to your practice from people looking on the Net for: Dentist - Cosmetic - Veneers - Implants - Whitening - Fillings - Caps Crowns - All on 4 - Braces … in fact, for every Dental Service searched for in your area and surrounding suburbs!
The days of trying to generate high volume enquiries from one site are over!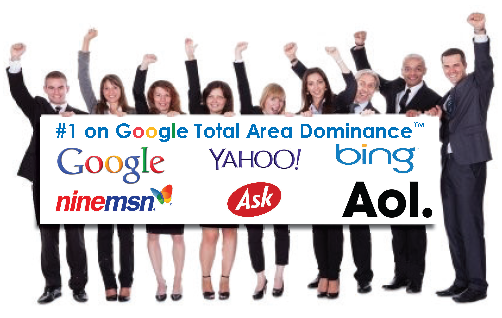 if your Area is completed for Total Area Dominance
Total Area Dominance™ is guaranteed to capture a MINIMUM of 1,200 enquiries/ hits a month for dental service searches in your Area – or it's FREE. We can only work with one Practice per Area
This quality traffic is from people looking for dental services by typing word combinations such as Dentist Cronulla - Implant Dentist Bondi – Teeth Whitening Chatswood and such into Google and other search engines.
Our key search term matrix includes: Dentist - Cosmetic - Implants - Whitening - Caps – Crowns – Veneers - All on 4 – Fillings – Braces – Children's – Neuromuscular – Snoring – Sedation – Emergency – Migraine - Root Canal – Smile Makeover – Invisalign … and another 32 dominant dental search terms. We will dominate page 1 for those services you want enquiries for - and remove any service you don't want.
TAD is powered by our purchase (our arsenal) of over 54,000 domain names and many 1,000's of live dental websites.
With TAD you will DOMINATE your Practice Area for online dental search enquiries - at a fraction of the cost you would spend on any other form of promotion in an attempt to achieve the same result
NO long term contract – just month to month.
Results are GUARANTEED Under 1,200 hits a month - we won't invoice you
Stop any time no questions asked.
We will never bill you for any outstanding monthly fees… if you are not 100% happy we don't want payment!
We never need to touch your website.
Australian Dentists Pty Limited - www.AustralianDentists.com.au
We are long term win/ win relationship thinkers – focused of delivering value without compromise.
In the battle for new patient enquiries – Total Area Dominance gives ONE dental practice a serious business advantage
Within ONE WEEK - without touching your existing website,
we can make your Practice the dominant market leader for online dental searches in your Area
ONLY ONE PRACTICE PER AREA - EXCLUSIVE, AREA PROTECTED PROGRAM
Make your Practice the dominant market leader for ALL online dental searches in your Area
contact@ausdent.net
Australian Dentists:
Site is under construction what follows is irrelevant page fill

The dentists listed in Australian Dentists are some of the most highly educated, knowledgeable and experienced dentists in the world.
Whether it's a simple filling or leading edge cosmetic Dentists work, selecting the right Australian Dentists is perhaps your most important decision.
Australian Dentists has lots of "family dentists", "cosmetic dentists", "we cater to coward's dentists" and now even "whiter-teeth dentists". Trying to work out who's right for you is probably pretty confusing, especially when so many dentists are claiming to be experts.
Truth be known, "family dentistry" never was and never will be a specialty. And, "cosmetic dentistry" is something that sounds great, but you really need to know what you're doing to get any good at it. So, the question remains: "How do I pick a good Australian Dentists?"
Allow me to introduce myself
I'm a long time local, and about … years ago established Australian Dentists. Now, I'm not saying that I'm the right dentist for you. Perhaps you might already have a dentist you are very happy with and would never change. But, if you are looking for a dentist at the moment, here's what I have to offer.
Australian Dentists A simple concept
My Dental practice is based on a very simple and very old idea: "Do unto others as you would have them do unto you".
That's right – the Golden Rule. I founded Australian Dentists with exactly that rule in mind.
So, how does the Golden Rule translate into dentistry? Please let me give you a few examples:
The Australian Dentists office is state-of-the-art - When I have dental treatment done for myself I want it done as well as today's technology will allow. I want treatment that looks great, feels great and lasts as long as possible.  This cannot be achieved using 1970s, 1980s or even 1990s technology. Dentistry is evolving fast and I invest time in keeping up so that whatever treatment I do, I know that it's the best around.
Australian Dentists does not use amalgam (mercury) fillings. Having children made me realise that I could never use amalgam. I wouldn't even consider putting amalgam in their teeth so, in good conscience, I could not put it in any one else's. There are much better alternatives today.
I recommend for you exactly the treatment I choose for myself.
Every treatment recommendation I make for you is what I would choose for myself. That means I never recommend a denture when there is a better alternative, and I never recommend patch ups or short-term solutions. What I do is look at your teeth and give you straight advice – the treatment I would choose for my family, my best friend or myself.
I only do treatments that I can do really well.
I'm sure you have heard of the expression "Jack of all trades, master of none." I decided that at (Your Suburb) Dentists I would focus on things I do really well.  My passion is cosmetic rehabilitation (making old teeth look like new again). I love giving people back their smiles, and if there's head and neck pain, sometimes giving them back their lives.  It is just so satisfying. I also love treating kids. There are so many things that need to be picked up early for kids to avoid problems. Just identifying something as simple as a breathing problem can save years of braces. Anyway, there are lots of things that I feel I'm pretty good at, but if I think someone else can do something better than me, I organise for you to see that person. It's a team approach and it works very well.
Australian Dentists Keeping up means keeping happy
I love my work, and it's because I love learning. The last 10 years I've taken many courses on advanced dental techniques. Staying up to date really gives me a passion for what I do. I don't expect any less from my dentist, you shouldn't expect any less from yours.
Australian Dentists A pleasant environment with no waiting.
When I go to a doctor I don't want to be kept waiting an hour in a room, with tatty magazines to read and a crowd of people all around me. So you'll notice my client lounge is a little bit different.  It's modern, sunny and friendly. But nice as it is, you won't spend long there because the chances are better than 95% that I'll see you on time.
Australian Dentists Personalised attention. Have you ever been to a dental office where the dentist was hopping around from room to room or, even worse, where you never knew which dentist you were seeing until they turned up? That's not what I would want. At (Your Suburb) Dental I set aside the time to focus 100% on you. You'll find you get your dentistry done in a lot less appointments this way.
Australian Dentists A stable team
I like seeing the same people when I return to a business I like. It makes me feel good. Our practice was established in …. There's been a dentist on our site for over …years (we rebuilt it 10 years ago). I've been here …. years, my receptionist …..has been here … years, my assistant …. .. years . We're here to help you for the long haul.
Limited openings
We are currently accepting new patients. We're not a high volume practice, so we only have a maximum of XX openings for new clients a week. Any more and we wouldn't be able to give you the personal attention you deserve.
Please may I make a suggestion?
If you have a dentist you are very happy with then don't do anything.
If you don't then why not give us a call
The first step would be to have a thorough check-up and any needed x-rays. The entire cost for this is $XXX. When you've had that done I'll be able to tell you the full story about your teeth, give you clear, no-mucking-around recommendations and an exact costing for any treatment you need. Where you go from there is up to you, but if you like what you've read here I hope you stay around and bring your friends.
Australian Dentists
What does an Australian Dentists do?
Australian Dentists aim to improve the quality of life for their patients by preventing and treating oral disorders.
Devoting time to patient education in maintaining good oral health.
Diagnosing dental disease such as tooth decay, gum disease and oral cancer. This may involve a thorough oral examination, the collection of the patient's medical history, saliva tests, x-rays, lasers or biopsies.
Diagnosing general disease which may have oral manifestations such as AIDS, diabetes and leukaemia.
Providing health care to prevent and treat tooth decay and gum disease. Prevention of dental disease may involve clinical treatments such as scaling, cleaning, application of fluoride, use of pharmaceutical interventions and public health measures such as involvement in community health programs.
Restoring teeth that are decayed or damaged and improving function and appearance. Restoration of teeth may involve amalgam or tooth-coloured restorations, crowns, bridges, veneers and root-fillings where the tooth pulp (nerve) is treated.
Replacing lost teeth. Teeth can be replaced by plastic or metal dentures or by implant-supported crowns and dentures.
Treating problems with the function of the mouth, e.g. during chewing.
Performing a variety of oral surgical procedures on the teeth and associated structures, e.g. the removal of wisdom teeth.
Being responsible for treatment delegated to allied dental personnel.
Referring treatment to specialist Australian  Dentists and/or other health practitioners when necessary.
Australian Dentists may provide orthodontic treatment to correct misaligned teeth and jaws and may also write prescriptions to manage or cure disease and control infection and/or pain.
Australian Dentistry in Australia
This information has been prepared by the Australian Dental Council (ADC), for the information and guidance of overseas qualified dental practitioners who wish to obtain recognition of their qualifications in Australia and become registered to practise within Australia. It is intended as a guide only, and is not legally binding on any of the bodies or agencies listed. The information given is believed to be accurate at the time of publication; however requirements for recognition may vary from time to time.
If you live overseas and are a dental practitioner with a qualification gained outside Australia or a qualification gained from an Australian tertiary institution and you intend to migrate and work in this profession in Australia, you should first contact the nearest Australian Embassy, High Commission or Consulate. Information for Australian Dentists relating to the general skilled migration program, including requirements for assessment of skills and qualifications, is available in the General Skilled Migration booklet. This can be purchased from the nearest Australian Embassy, High Commission or Consulate.
If you are already in Australia but need a skills assessment to support an application to change your immigration status, you should initially seek the advice of the Department of Immigration and Citizenship (DIAC)
Australian Dentistry in Australia
Australia has a federal system of government, comprising the Australian Government (at the national level) and six State and two Territory governments. From 01 July 2010 (and for Western Australia from 18 October 2010), a new national registration and accreditation scheme for the health professions, including Australian Dentistry, commenced operation across Australia, replacing separate legislation covering registration in each State and Territory.
To practise as a dental professional in Australia you must be registered with the Dental Board of Australia. The steps you need to take to obtain registration in Australia are explained on the Assessment of overseas qualified dental practitioners section of this website.
To qualify as a dental practitioner in Australia you must meet the entry requirements of one of the Australian tertiary education institutions offering dental courses, and then complete the required academic and clinical training. If Australian Dentists wish to specialise, they must complete extra study after having had a period of clinical experience in general practice
The following universities all offer dental degree courses that are accredited by the ADC and with qualifications that are approved for registration as a Australian Dentists by the Dental Board of Australia:
Charles Sturt University (Orange, NSW)
Griffith University (Gold Coast, Queensland)
James Cook University (Cairns, Queensland)
La Trobe University (Bendigo, Victoria)
University of Adelaide
University of Melbourne
University of Queensland
University of Sydney
University of Western Australia
The following tertiary education institutions all offer courses that are accredited by the ADC and with qualifications that are approved for registration by the Dental Board of Australia as a dental hygienist, dental therapist or oral health therapist:
Central University of Queensland
Charles Sturt University (Orange, NSW)
Curtin University (Western Australia)
La Trobe University (Bendigo, Victoria)
TAFE SA (Gilles Plains, South Australia)
University of Adelaide
University of Melbourne
University of Newcastle
University of Queensland
University of Sydney
Contact details for Dental Schools and other educational institutions, and for the Dental Board of Australia are included on the links page.
Assessment and Recognition of Overseas Qualifications
There are three ways in which overseas qualified dental practitioners can enter the profession in Australia:
By enrolling with an Australian education provider with an accredited program of study in the relevant discipline, where they may be granted some credit for previous study, or
By recognition of their overseas qualifications by the Dental Board of Australia (acceptability of any dental qualification may change from time to time, therefore you should seek up-to-date information from the Australian Health Practitioner Regulation Authority); or
By successfully completing the Australian Dental Council (ADC) examinations (the examination procedure is described on the Assessment of overseas qualified dental practitioners section of this website.
Under the Trans-Tasman Mutual Recognition Arrangement (TTMRA) individuals registered or licensed to practise an occupation in New Zealand are entitled to practise the equivalent occupation in any Australian State and Territory, and vice versa. The TTMRA applies irrespective of where training was undertaken.
Australian Dentist
What is an Australian Dentists? 
The World Health Organisation defines Australian Dentistry as "the science and art of preventing, diagnosing and treating diseases, injuries and malformations of the teeth, jaws and mouth".
Australian Dentists is an ethical profession and practising Australian  Dentists are expected to place the welfare of their patients before any other consideration.
What does an Australian Dentists do?
Primarily an Australian Dentists aims to prevent and treat oral disorders by:
Providing preventive treatment such as scaling, cleaning and fluoride therapy.
Repairing teeth damaged by decay or trauma, rebuilding tooth structures for functional or aesthetic reasons and providing crowns and bridges.
Treating diseases of the roots, gums and soft tissues of the mouth and carries out various surgical procedures, from routine extractions to far more complex operations on the jaws and soft tissues.
Using X-rays to detect abnormalities and plan treatment.
Managing malformation and misalignment of teeth and jaws by providing appropriate treatment.
Designing dentures and oral appliances by taking impressions, recording jaw relations, selecting teeth and correctly fitting dental appliances manufactured by dental technicians to the Australian  Dentists' prescriptions.
Extraction of teeth.
What are the recognised dental specialities? 
The recognised dental specialities are Dental-maxillofacial Radiologists, Endodontist, Oral and Maxillofacial Surgeons, Oral Surgeons, Oral Physicians, Oral Pathologists, Orthodontists, Paediatric Australian  Dentists, Periodontist, Prosthodontists, Public Health Australian  Dentists, Special Needs Australian  Dentists.
A Dental-maxillofacial Radiologist deals with diagnostic imaging procedures applicable to the hard and soft tissues of the oral and maxillofacial region and to other structures which are relevant for the proper assessment of oral conditions.
An Endodontist deals with the morphology, physiology, and pathology of the human tooth and, in particular, the dental pulp, root and peri-radicular tissues.
An Oral and Maxillofacial Surgeon deals with the diagnosis, surgical and adjunctive treatment of diseases, injuries and defects of the human jaws and associated structures.
An Oral Surgeon deals with the diagnosis, surgical and adjunctive treatment of diseases and injuries limited to the dento-alveolar complex.
An Oral Physician deals with the clinical diagnosis, assessment and principally non-surgical, pharmacological management of anatomical variants, pathological conditions, diseases and pain of the dental, oral and adjacent anatomical structures and the dental/oral manifestations and complications of systemic diseases, pathology and conditions and their treatment.
An Oral Pathologist deals with diseases of the teeth, jaws, oral soft tissues and associated structures, studies their causes, pathogenesis and effects, and by use of clinical, radiographic, microscopic and other laboratory procedures establishes differential diagnoses and provides forensic evaluations.
An Orthodontist deals with the study and supervision of the growth and development of the dentition and its related anatomical structures, including preventive and corrective procedures of dentofacial irregularities requiring the re-positioning of teeth, jaws, and/or soft tissues by functional or mechanical means.
A Paediatric Australian Dentists deals with the prevention and the treatment of dental diseases and abnormalities in children and their associated developmental and behavioural problems..
A Periodontist deals with the prevention, recognition, diagnosis and treatment of the diseases and disorders of the investing and supporting tissues of natural teeth or their substitutes..
A Prosthodontist deals with the restoration and maintenance of oral health, function and appearance by coronal alteration or reconstruction of natural teeth, or the replacement of missing teeth and contiguous oral and maxillofacial tissues with substitutes.
A Public Health Australian Dentists deals with the community as the patient rather than the individual, being concerned with oral health education of the public, applied dental research and administration of dental care programmes including prevention and control of oral diseases on a community basis.
A Special Needs Australian Dentists deals with patients where intellectual disability, medical, physical or psychiatric conditions require special methods or techniques to prevent or treat oral health problems, or where such conditions necessitate special dental treatment plans..
General dental practitioners provide a range of dental services. They may consult and refer to specialist dental colleagues.
What types of dental practice options are available?
The majority of Australian Dentists work in private practice.
An Australian Dentists may set up a practice or purchase an existing practice. Other ways of working in private practice include becoming an assistant Australian Dentists, which means you receive a salary from the owner of the practice; an associate Australian Dentists, where you and another (or more) join together to share the certain expenses, such as rent, while other expenses are paid separately and fees are collected separately; or as a partner where two or more practitioners share expenses and profits/losses according to an agreed proportion.
There are positions available to Australian Dentists in the government service, which employs about 15% of dental practitioners in Australia. A salaried government Australian Dentists treats patients eligible for publicly funded dental treatment.
Each of the armed services maintains dental units which provide treatment for members of the service and in some circumstances their families.
On graduation, universities are sometimes able to provide short-term appointments as tutors or lecturers. Permanent appointments require post graduate experience and higher degrees.
To be able to set up a specialist practice you must be registered as a specialist with the appropriate Dental Board. In general, you are required to have a degree, diploma or award of high standing which testifies to your ability in the specialised area, plus demonstrate you have been practising exclusively, or with considerable emphasis in that field for a reasonable time.